East Falls
Date: June 26th, 2019
Location: Ridge Ave, Philadelphia, PA 19127, United States
Lat: 40* 0' 52.820" N || Long: 75* 12' 24.210" W
Altitude: 8.76 m

Link to approximate location on map: https://bit.ly/38uZtyj




Background

The East Falls neighborhood in Philadelphia is a site long associated with the Schuylkill River and its inhabitants, especially the catfish. Regardless of the health of the river and the safety of eating fish taken from the water over time, this area has been a popular fishing site since at least the early 1800s by colonists, and certainly prior to European colonization by the Lenape people. In fact, the abundance of fish led to a now-forgotten culinary staple of Philadelphia: Catfish and Waffles. The dish headlined many taverns and tourist stops along the Schuylkill until many of these establishments were closed due to prohibition in the 1920s. Even after the age of Catfish and Waffles, however, in a time when the Pennsylvania Boat and Fish releases annual "Fish Consumption Advisory" documents to warn residents about the safety of eating fish from the Schuylkill, the fishing community on and around East Falls remains robust and evident, especially if one happens upon the bridge during summer nights.
Input 1
Hydrophone was placed in jagged, broken metal pipe protruding from river.
Input 2
Contact mic placed on sound sculpture: a crushed sprite can tethered to empty pill case
Input 3


Lav microphone was placed inside a hole drilled into a boulder
Input 4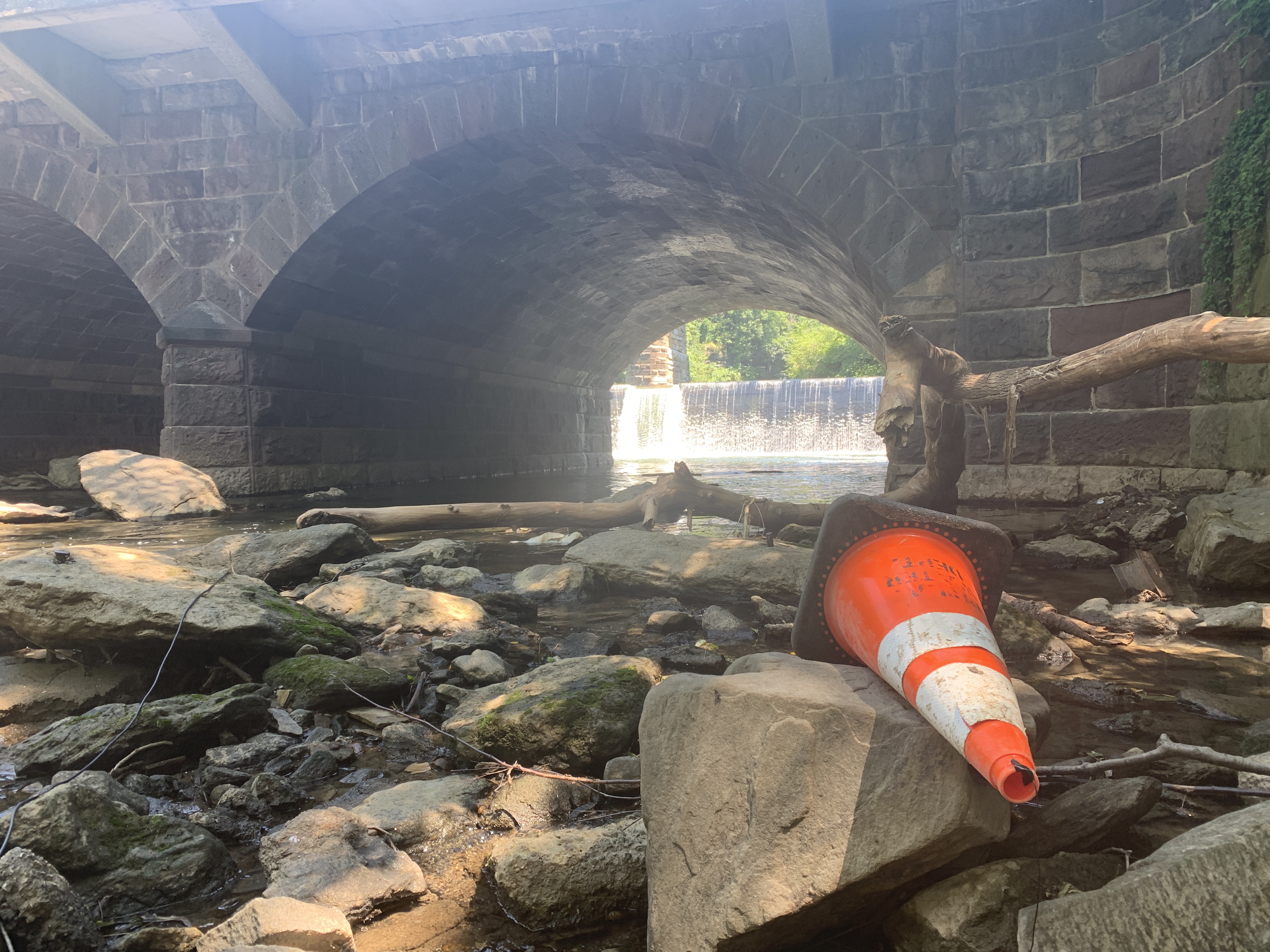 Lav microphone suspended in traffic cone found on shore.
Seamfinding

We explored a few sites in East Falls, including the Falls Bridge, a popular fishing site. We settled on a site just Northwest, where the Wissahickon Creek feeds the Schuylkill. Not only did this site present seams as two waterways converged, but just above us, on Ridge Avenue, sits the Wissahickon Transportation Center, a major hub for public transportation in the city. We parked near the transportation center and walked to the riverbanks, where we found, again, an abundance of listening objects and seams of material relations. A traffic cone serendipitously sat on the rocks, which we used as a kind of amplifier over the water. There were jagged pipes protruding from concrete slabs, half in the water. We also developed a bit more courage to actively curate objects as sound sculptures. We had previously tried to listen to objects in situ as much as possible, but here we sculpted a listening object from a crushed aluminum soda can and an empty pill container.